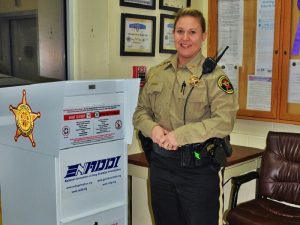 Habersham County Deputy Sheriff Stephanie Bennett is credited with using Naloxone (narcan) to save the life of a heroin overdose victim on Dec. 30.
Related Articles
Habersham authorities seek info on missing womanHabersham S.O. warns of vehicle unlock scamSheriff's K-9 Rex remembered as 'one of a kind'Bullying led to Banks County bomb threat
CLARKESVILLE – Quick action by a Habersham County deputy sheriff saved the life of a suspected heroin overdose victim last week.
On Dec. 30, Deputy Stephanie Bennett was called to a Clarkesville address where a victim was unconscious and showing signs of a drug overdose.
Use training she received through Project DAN (Deaths Avoided by Naloxone), Bennett administered Naloxone, also known as Narcan, which is designed to reduce deaths from opioid overdose.
"I received a call of a possible heroin overdose," Bennett said. "When I arrived on scene, the patient showed signs that it may be a heroin overdose, so I grabbed the Narcan kit and administered the Narcan. EMS came in and we worked as a team to get him stabilized."
Bennett said administration of the Naloxone had quick effects.
"By the time Narcan hit his system, he began to show signs of coming back around – almost immediately," Bennett said.
Asked if that was the response she was expecting or whether physical response of the patient was part of the training all Habersham deputies received on Project DAN and on the Georgia 9-1-1 Medical Amnesty Laws, Bennett said, "I didn't expect it to happen that fast, to be honest with you. It was very amazing. It's a miracle drug."
Project DAN is designed to reduce incidents of overdose by equipping law enforcement officers with the prescription drug Naloxone/Narcan and by training those officers how to administer it properly.
"It is a very important tool," Bennett said. "It could save many lives."
Bennett's early action, in conjunction with the work of the medical team, is credited with saving a life.
Asked her response to that credit, Bennett said, "It makes feel like I'm doing the right thing, that I'm here for a purpose. I'm proud that I got to experience what Narcan was able to do for someone."
Bennett is quick to point out she shares the credit for the save with EMS and other medical personnel, noting it was through teamwork the life was preserved.
Last fall, the Northeast Georgia Medical Center Foundation's annual golf tournament raised $281,881. Those proceeds were donated to the Medical Association of Georgia Foundation's "Think About It" Campaign to benefit Project DAN throughout northeast Georgia.
"The sheriff's office is being proactive as far as getting us training for using the Narcan kits," Bennett said. "It was a very intense but good class. We learned how to work the system. I never thought that I'd actually have to use it, but we're not even two months out of the class yet and I've already had to use it, so it's a very good tool to have in my patrol car."